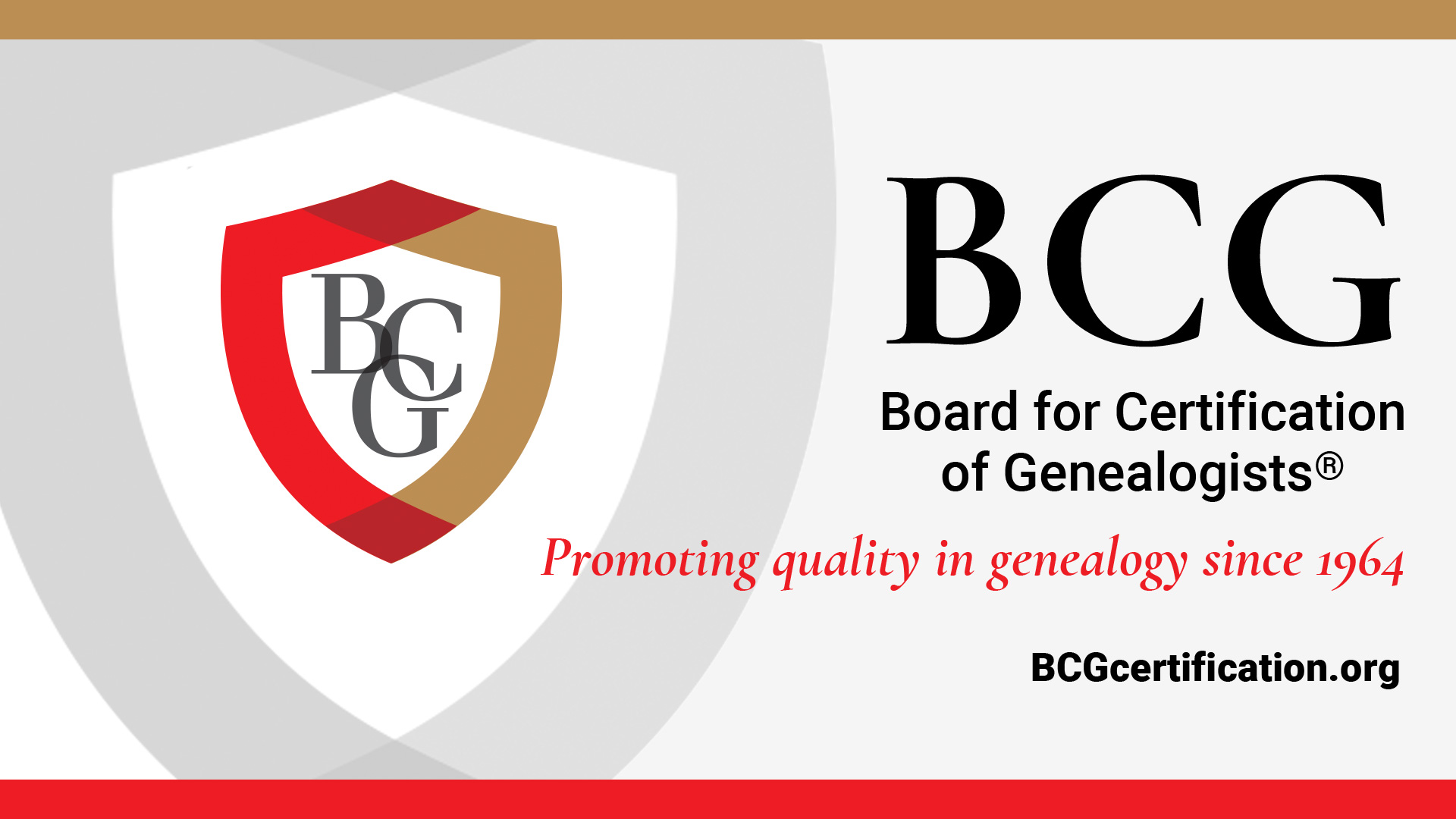 12 June 2021
I'm sure others have been told they should become a professional genealogist, and when your mom tells you, you're flattered, especially since mom is a professional genealogist. But while being certified is not a requirement, I've had some opportunities pass me by because I didn't have that CG after my name.
It costs $375 to be certified and only 40% of applicants pass on their first try. I admit it, I'm a tightwad and the idea of "wasting" $375 was holding me back. I started preparing practice portfolios and my mother hired a certified genealogist to go over my first practice attempt. I thought she was just giving it to a friend to look at and I sent her a rough draft and wrote that the friend was only to give it a 15 minute look to see if I was meeting the requirements and that my footnotes weren't totally wrong, turns out Mom hired Rebecca Whitman Koford who is now the Executive Director for the Board for Certification of Genealogists.
So poor Rebecca, got handed a rough draft and wrote, "It would have been more readable if you'd cleaned it up before sending it instead of crossing stuff out." If I'd known…. Mom told me she had a friend who was a certified genealogist who volunteered with her at the Family History Center once a month and she'd ask her to look at it for me. So I just grabbed what I had and dropped it in the mail with a note, "I'm not looking for proofreading or details, but just a broad idea of am I hitting the mark, is my logic sound, and are my sources adequate and documented in an acceptable way." Koford critiqued it in detail and cited BCG requirements. This critique is priceless and I can't thank Mom enough.
So that was October 2019 and since then my mother and husband check in frequently — have you submitted your application yet? And my reply was, I'm looking for the perfect project for my portfolio. One of Koford's complaints was I missed the mark on indirect evidence. Yeah, poor me, I'd get deep into a project, sure I was going to have to prove something with indirect evidence, and bang, I found proof. Again and Again. Don't you wish you had my problem?
So yesterday, this tightwad, shelled out the money for a 3-month subscription to American Ancestors so I could check some of their sources to make sure the case study I was creating had not been done before. There were some articles in the New England Historical and Genealogical Register which looked like they were about the family and I had to check them out. I also needed to look at Settlers of the Beekman Patent, Dutchess County, New York. And shortly before midnight, I submitted my application to BCG.
This means I'm "on the clock." I have one year to complete my portfolio. There are several things I need to do but the big three are:
A Client Project – It took me three tries to find a project I liked. The one I chose is really small but it involved several record types so I feel it is a good demonstration of my research skills.
A Case Study – This was the hardest project to choose. Think about a case study as a court case. Little pieces of evidence pile up to point to the guilty party but you don't have an eye witness, a body, or a weapon. Is it enough to convince the jury?
And finally, the Kinship-Determination Project – This is everyone's favorite, a simple genealogy. But no, it's not that simple, it has to be a narrative and include at least two proof summaries, two proof arguments, or one of each. Thank goodness proof summaries can be based on direct evidence, it's the narrative I need to work on. Kofold wrote, "The work is fine, but not really inviting to read." So in the past year and a half (there was plenty of time to study during the pandemic), I've learned a lot about writing genealogy narratives. Now let's see if judges agree.